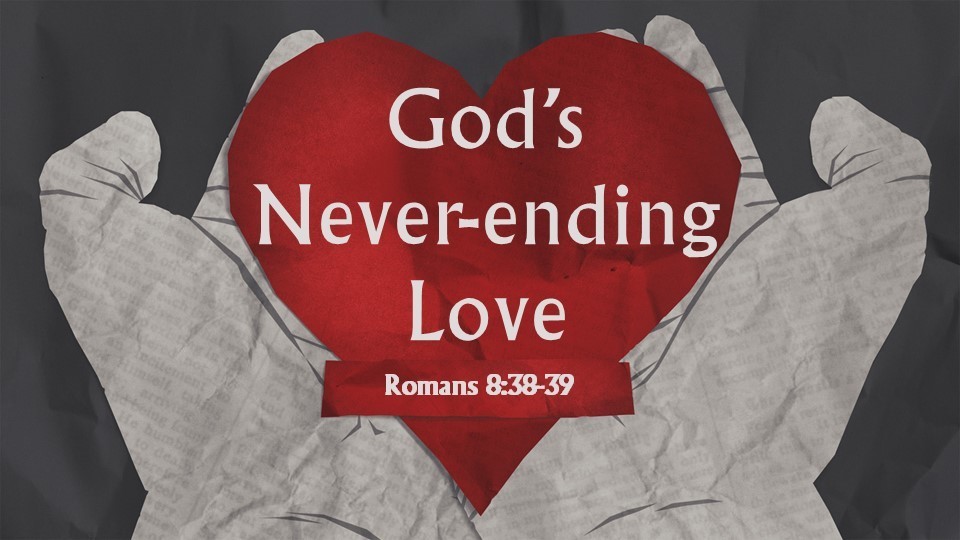 I think we continue with this approach to life into adulthood. We may put on a brave face when we're in front of other people. We keep going amidst the scrapes, bruises and hardships life brings especially in times like we're in now. But sometimes we may need to pour out our hearts or let off our frustrations or simply hear from someone greater that it will be alright.
Thankfully, we have this with our Heavenly Father. God is love! The apostle Paul reminds us that nothing can separate us from His love. Romans 8:38-39 - For I am sure that neither death nor life, nor angels nor rulers, nor things present nor things to come, nor powers, nor height nor depth, nor anything else in all creation, will be able to separate us from the love of God in Christ Jesus our Lord.
The love of God in Christ Jesus our Lord remains no matter what life brings including a worldwide pandemic. John Newton, the former slave ship captain and author of Amazing Grace, wrote about Jesus' love for us in a letter to a lady in his congregation. He had space left on his letter paper and didn't know what else to write to her. So he writes "Oh for a ray of Divine light to set me at liberty, that I might write a few lines worth reading, something that might warm my heart and comfort yours. Then the subject must be Jesus; but of him what can I say that you do not know? Well though you know him, you are glad to hear of him again and again." Then Newton launches into a reflection on God's love for us (including his 166 word second sentence!). .
"Come then, magnify the Lord with me and let us exalt his name together. Let us adore him for his love, that love which has a height and depth, and length and breadth, beyond the grasp of our poor conceptions; a love that moved him to empty himself, to take on him the form of a servant, and to be obedient unto death, even the death of the cross; a love that pitied us in our lost estate, that found us when we sought him not, that spoke peace to our souls in the day of our distress; a love that bear with all our present weakness, mistakes, backslidings, and shortcomings; a love that is always watchful, always ready to guide, to comfort, and to heal; a love that will not be wearied, cannot be conquered, and is incapable of changes; a love that will in the end prevail over all opposition, will perfect that which concerns us, and will not leave us till it has brought us perfect in holiness and happiness, to rejoice in his presence in glory. The love of Christ: it is the wonder, the joy, the song of angels; and the sense of it throughout our hearts makes life pleasant and death welcome. Alas! What a heart have I that I love him no better! But I hope he has given me a desire to make him my All in all, and to account everything loss and dross that dares to stand in competition with him." (John Newton, Works of John Newton, Volume 2, Banner of Truth Trust, Edinburgh, 37).
May the fact that nothing can separate us from God's love be your comfort and hope today.